EXPLORE:

Get outside!
When the weather outside is frightful... So what? Bundle up and enjoy.
Polar plunge
Multiple locations and dates
www.soiowa.org/ways-to-give/fundraising-events/polar-plunge
Ready? Set... Freeze! Jump into ice-cold central Iowa waters either solo or with coworkers, friends or family. It's the ultimate bonding experience, especially when it is for a good cause. The Polar Plunge is a signature fundraiser for the Special Olympics. The more money you raise, the more great Polar Plunge gear you can earn.
Snowmobiling and skiing
Big Creek State Park
www.iowadnr.gov
This outdoor winter hotspot offers ice fishing, a 10-mile snowmobile trail that goes around Saylorville Lake and 3-5 miles of cross country ski trails. Occasional ice fishing and ice fishing tournaments are available, when the conditions are right.
Cross-Country Ski & Snowshoe Rentals 
Jester Park Outdoor Recreation & Wellness Center
12130 N.W. 128th St., Grangerwww.jesterparknaturecenter.com
Cross-country skis and snowshoes are only available if there is 6-plus inches of snow. Most skis are adult sizes. Snowshoes are sized for both kids and adults, with a weight range of 40-250 pounds. Snowshoeing can be done just about anywhere in Polk County. Jester Park offers 6.1 miles of trails.
Ice skating options
Ames:
South River Valley Park, 1200 E. 13th St.
Ankeny:
Sunrise Park, 506 S.E. Peterson Drive
Des Moines:
Brenton Skating Plaza, 520 Robert D. Ray Drive;
www.brentonplaza.com
Indianola:
Indianola Activity Center, 2204 W. Second Ave.
Johnston:
Johnston Commons, 6700 Merle Hay Road
Crosshaven Park, 7909 N.W. 95th St.
Urbandale:
Lions Park on Prairie Avenue near 72nd and Aurora
Waukee:
Waukee Ice Rink at Grant Park, 605 S.E. Driftwood Lane
West Des Moines:
Raccoon River Park, 2500 Grand Ave.
AND MORE…
Boone:
Seven Oaks Ski Resort, located in Boone, offers skiing, snowboarding and other fun activities.
Popular sledding hills
Altoona:
Lions Park, 507 13th Ave. S.W.
Ankeny:
Northcreek Park, 2301 W. First St.
Otter Creek Golf Course, 4100 N.E. Otter Creek Drive
Clive:
Campbell Park, 12385 Woodlands Parkway
Country Club Glen Park, 16335 Sheridan Ave.
Mercy West Clinic, 1601 N.W. 114th St.
Des Moines:
Blank Golf Course, 808 County Line Road
Grandview Golf Course, 2401 E. 29th St.
Capitol Hill, 1111 E. Court Ave.
Ewing Park, 5300 Indianola Ave.
Greenwood Park, 4500 Grand Ave.
MacRae Park, 1021 Davis Ave.
Union Park, 725 Thompson Ave.
Sleepy Hollow offers Zipfy Sledding or snow tubing on multiple 1,000-foot runs, and small luge sleds are also available. Located at 4051 Dean Ave., Des Moines.
Waveland Golf Course, 4908 University Ave.
Johnston:
Beavercreek Elementary, 8701 Lyndhurst Drive
Pointe Vista Park, 9612 Enfield Drive
Pleasant Hill:
Doanes Park, 5050 Doanes Park Road
Urbandale:
Winter Park, 5110 N.W. 72nd St.
Waukee:
Warrior Park & Sledding Hill, 1050 Fourth St.
West Des Moines:
Jordan Creek Elementary, 4501 Fuller Road
Pearson Park, 1256 19th St.
Southwoods Park, 350 S. 35th St.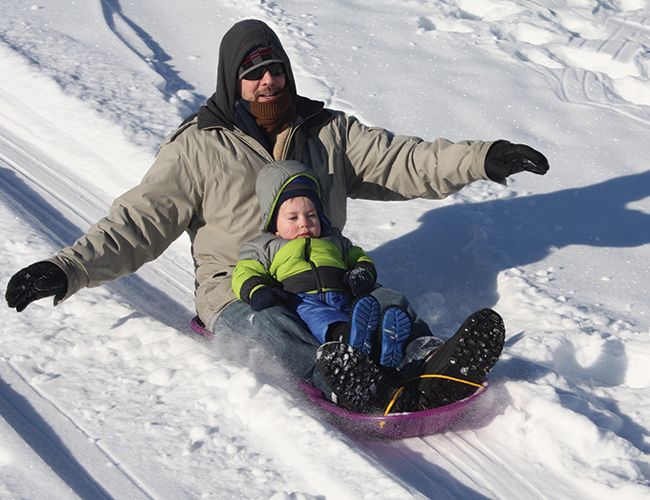 The Des Moines metro area offers an abundance of fun sledding hills. Image by Daren Mehl from Pixabay